Vaniglia ice cream parlor
Location: 98 Ibn Gvirol Street
Tel: 03-602 0185
Price: One scoop of ice cream - NIS 13; two scoops - NIS 18; three scoops - NIS 22

In the middle of one of the city's busiest streets, stumble upon a chilled, sweet paradise. In the Vaniglia gelateria, cool yourself down with ice cream flavors that you won't find anywhere else.

Sample the alfajores ice cream alone (or with a scoop of white chocolate and cardamon ice cream for a sumptuous combination). Other praiseworthy flavors include pavlova, honey yoghurt with pine nuts, banana yoghurt with dates and pecans, lemongrass yoghurt, and blueberry and port with raisins. Cool, tasty, and appealing even in winter.

Kurtosh Hungarian patisserie
Price: NIS 22-25 per pastry.
Location: Branches on Lincoln, Bograshov, and Dizengoff streets
Tel: 03-5280606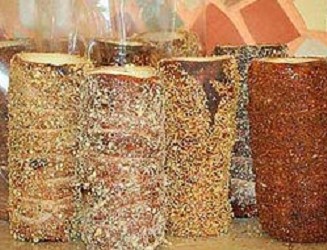 Sweet scents waft out from the Kurtosh bakery and its cylinder-shaped delicacies. You might not believe that a simple pastry can drive you crazy until you taste the hollow pastry tube.

Choose between regular, cinnamon, milk chocolate and even pistachio flavors. For those looking for something simple and tasty, try the regular pastry, which, despite its name, is actually a superb mix of cocoa and sugar.

Mini popsicles at DIP IT
Price: NIS 12 for a mini-dip; NIS 15 for a maxi-dip.
Location: 142 Ibn Gvirol Street
Tel: 03-5465414

Among sworn sweet lovers lies a truly rare subspecies - those whose favorite frippery comes in the form of a frozen treat on a stick.

At popsicle parlor DIP IT, all you need to do is choose the size and flavor of your iced treat (vanilla, chocolate, caramel or pecan), and the sauce you want it to be dipped in (chocolate, candies, meringue pieces, Oreo cookies, toasted coconut, almonds, granola, pistachio and more).

Mini pastries at Boutique Central
Price: NIS 4.5 per pastry
Location: 90 Frishman Street, 171 Dizengoff Street
Tel: 1-700-700061

The excellent Boutique Central chain offers sweet mini pastries at ridiculous prices. Take for example, the mini Savarin soaked in rum, covered in cream, and topped with a cherry.

Not convinced? How about a mini St Honore - a cream puff filled with vanilla cream, whipped cream and caramel.

Still unmoved? Then try the mini mocha or chocolate flavored eclairs. It doesn't get more Paris-chic than this in Tel Aviv.

Nothing but chocolate cake at Ben-Ami
Price: NIS 24
Location: Ben-Ami Bakery, 22 Nachmani Street
Tel: 03-5609960

Those still unfamiliar with King Albert Square should score themselves a big minus on their knowledge of Tel Aviv. The beautiful Ben-Ami bakery is located in the city's most European quarter.

One dark cake stands out against the background of the shop's white walls and furnishings. The aptly named "nothing but chocolate cake" is made on site and contains no flour at all. It is served at room temperature and every bite is pure bliss.