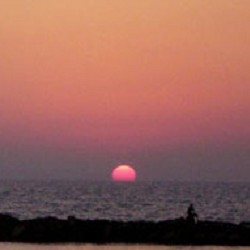 It's official: Tel Aviv is the coolest city. According to the New York Times, that is. This week the paper of papers ran a lengthy love letter to Israel's center of sea, sun, style and debauchery. But there are some things that the NYT missed, which are vital to the Tel Aviv experience:

1. An all-day breakfast is the greatest meal in the world, which is why the locals love it and so many eateries do it. There is even a chain that offers JUST breakfasts.

2. You can buy everything you need in Carmel market. From expensive souvenirs to cheap T-shirts with every design under the sun. It's your one stop shop.

3. Walking is so pleasant. With a city so small, it is possible to get from anywhere to everywhere in less than an hour. Get a good map and see the sights on foot, or by bike.

4. Cafe culture - with booze option. Tel Aviv (probably!) boasts more street cafes than any other city in the world. If you are tired from all the walking (or cycling), you can rest your sore feet and watch the world go by whilst sipping a latte or glass of chilled white wine.

5. Bar frenzy. Nightlife in Tel Aviv leaves nothing to be desired. There is everything from pseudo-elegant cocktails bars such as Mishmish to grunge mecca Riff Raff and laidback watering-hole Minzar, a former monastery.

6. Seafood on the seafront. The newly revamped port has dozens of great places to eat. For style fiends, you can even round off the night by buying designer shoes at midnight!

7. Music everywhere. Check out the up and coming local talent at Levantine 7, enjoy more established acts at the Barby club or indulge in some jazz at Camelot.

8. Hummus madness. Every hummus joint in town vies for an annual crown, and every place has its devotees. Whichever one you fall into, you won't be disappointed. Try Hummus Abu Dhabi for food and reggae, Mashawa for warm hummus with whole chickpeas or Hummus Abu Hassan for a speedy, stressful and delicious experience, but one from which you will need several hours to recover.

9. Street life. Tel Aviv runs on its nerves, cigarettes, caffeine and the street. The almost year-round warm weather has facilitated an entire street culture, from cafes open 24/7 to mime artists and classical musician buskers. On weekend mornings, Tel Aviv promenade hosts a folk dancing session, where you can watch every section of society dip and swirl together, or even have a stab yourself.

10. One last tip: Never go to the beach before 4pm on Saturdays or during the school vacation. You'll be lying on a patch of sand 3cm squared and the lapping of the waves will be drowned out by the screaming of the kids and the bellowing of the parents. And you'll be roasted alive. Until then, stick to a shady umbrella by the pool.