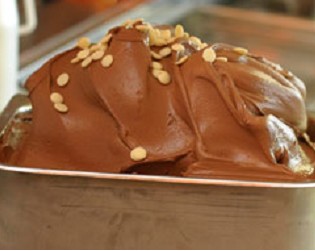 In honor of the imminent heat wave, we present 10 of the best ice cream parlors in Tel Aviv:

Sicilian Ice Cream Parlor

Location: 63 Ibn Gvirol Street
Tel: 03-696 2458
Opening hours: Every day from 11:00-01:30
Behind the counter: Keren and Raphael Arviv

Summer update: This summer, the veteran ice cream parlor has several additions. One is a chocolate corner, where you will find chocolate ice cream made from 70 percent cocoa, chocolate whisky and chocolate orange ice creams, as well as chocolate cream ice cream with Loacker waffle and nuts, and coconut ice cream with chocolate chips.

Another new feature is a frozen yoghurt counter where you can taste soft yoghurts made with 4.5 percent cream, served with fruit or a choice of granola, including halva-pistachio, chocolate or granola with sugar and hot maple syrup.

Papa Aldo

Location: 107 Ibn Gvirol Street
Also at: Hangar 9, Tel Aviv Port
Tel: 03-529 5555
Opening hours: Sunday-Thursday 09:00-02:00; Friday and Saturday 09:00-03:00
Behind the counter: Rami Arviv and his partner, Tal Suissa

Summer update: Cucumber ice cream and avocado ice cream take center stage this season at Papa Aldo, as part of a range of daring new flavors. There is also sesame ice cream (note: this NOT halva, it's real sesame), apple and white chocolate ice cream and a banana sorbet and pecan cream ice cream combo.

Dolcia Melody

Location: 122 Ben Yehuda (this is the original Papa Aldo branch)
Tel: 03-527 4008
Opening hours: Everyday from 09:00-01:00
Behind the counter: Meir Gor

Summer update: Vegetables are on the menu this season, with pumpkin and carrot ice cream. New flavors also include red and white grape, chewing-gum and pomegranate ice cream with popping candy. For those with more grown-up tastes, there are wine, champagne and Bacardi ice creams.

Almond

Location: At the entrance to Tel Aviv Port on Caf-Gimmel Yordei HaSira Street
Tel: 03-676 0438
Opening hours: Sunday-Thursday 07:00-24:00; Friday and Saturday 24 hours, (during July and August, the store will be open all week, 24 hours a day)
Behind the counter: Meni Sheked and Oren Nissim

Summer update: Red Bull ice cream is one of the many new flavors this season. New lines also include yoghurt ice cream (with fruit, chocolate and marshmallow), an alcohol-flavored range, including whisky and melon vodka ice creams.

The list of sorbets on offer sounds a little like a salad bar, with basil and strawberry, tomato and thyme and orange and carrot. The richer ice creams come in tehina and sesame, and chili chocolate flavors.

Aldo Florentin

Location: 3 Florentin Street
Also at: Tartofu in Neve Tzedek belongs to the same owners
Tel: 03-683 8730
Opening hours: Sunday-Thursday 09:30-02:00; Friday and Saturday 09:30-03:00
Behind the counter: Brother and sister Nir and Adi Avital

Summer update: The store displays works by local artists accompanied by corresponding ice cream flavors such as Cantucci, (Italian almond cookies), nut cream with cereal and mint chocolate. There are different types of yoghurt ice cream, some containing jam made on site: Yoghurt with granola, yoghurt with plum jam and yoghurt with grape jam.

Italian Park

Location: 67 Yehuda Maccabi Street
Tel: 03-544 9970
Opening hours: Sunday-Thursday 10:00-23:00; Friday and Saturday 10:00-00:00
Behind the counter: Marina Weinstein

Summer update: This ice cream parlor insists on renewing its flavors every week and right now, offerings include an ice cream-cake combo. This summer, look out for Mascarpone ice cream, cookie ice cream with chocolate chips and Cremeschnitte ice cream.

Vaniglia

Location: 22A Ishtori Haparchi Street (off Basel Street)
Also at: 98 Ibn Gvirol Street
Tel: 03-602 0185
Opening hours: Every day 11:00-00:00
Behind the counter: Nitzan and Itai Rogozinski

Summer update: For who remember when the Basel branch was a small crowded shop, with a long line of customers spilling out onto the sidewalk, the refurbishment and extension are completed and the ice cream parlor is now set for summer.

Recommended flavors include fruits of the forest sorbet with blueberries; Cabernet Sauvignon sorbet; almond and rose tea ice cream with apple and poppy seed pie; dark chocolate ice cream with amaretto liquor and cherries; yoghurt ice cream with fresh verbena and lemongrass and glazed blueberries.

Iceberg

Location: 108 Ben Yehuda Street
Also at: Iceberg Volcano in Tel Aviv Port and new branch at 24 Ibn Gvirol Street
Tel: 03-522 5025
Opening hours: Sunday-Thursday and Saturday 10:00-01:00; Friday 10:00-02:00
Behind the counter: Ilan and Dalit Bar

Summer update: Yoghurt ice cream will take center stage this summer, with toppings such as fresh fruit salad and granola, forest fruit, toffee and nuts or hot sugar-coated almonds and peanuts. There will also be two new ice cream flavors: Caipirinha (Brazil's national drink) and lemon pie.

Tartufo

Location: 4 Yehuda Hamaccabi Street
Also at: 25 Shabazi Street, Neve Tzedek (the original branch)
Tel: 03-544 2919
Opening hours: Every day from 09:00-00:00
Behind the counter: Milly French and Danny Amira

Summer update: Summer has arrived in the shape of figs in tequila, and perhaps also lemoncello. Apart from boozy ice creams, this summer brings a choice of sorbets, such as melon, pineapple and banana with date and pecan, as well as Cremeschnitte ice cream, chocolate truffle ice cream made from dark chocolate with a drop of Irish cream and yoghurt ice cream.

Arlekino

Location: 39 Ben-Gurion Boulevard, (corner of Gretz Street)
Also at: Dizengoff Street, corner of Yeremiyahu Street
Tel: 03-522 4212
Opening hours: Sunday-Thursday, and Saturday 09:30-00:00
Behind the counter: Ronen Shachori and Ran Fishman

Summer update: Arkelino now boasts a charming grassy section complete with benches and flowers. The choice of ice creams includes a crazy blend of sweet and sour flavors concocted for the 2008 European Championship and mini sorbets, including apple-kiwi, watermelon and summer fruits (a grape-peach-plum combo).

The store has chosen to avoid the yoghurt ice cream mania because, says Shachori, "We don't see yoghurt as an interesting option and we don't like to follow trends."