Do you want restaurant food but can't afford to pay for it? Now here's your chance to enjoy Tel Aviv's top ten eateries, without leaving your own home.
Spicy Philippine Noodles / Dish from Giraffe Noodle Bar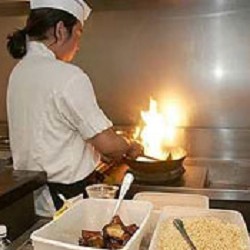 Giraffe Noodle Bar
(Photo: Aviad Herman)
Ingredients:
300g egg noodles cooked according to directions on pack
1/2 cup chicken-breast strips
2 tbs red curry puree
1 tsp crushed ginger
1 tsp crushed garlic
1/2 tsp salt
1 tsp sugar
3/4 cup coconut milk
3/4 cup chicken stock
1 tbs chopped peanuts
1 tbs whole peanuts
1/4 cup chive strips
Fry (on high flame) chicken, ginger, garlic, peanuts (both kinds) and chives in wok with a little oil. Add chicken soup and coconut milk. Stir. Add curry, salt and sugar. Reduce sauce for minute or two and add noodles. Toss until sauce envelops noodles and take off flame. Garnish with fresh coriander leaves and serve immediately.
Quinoa salad / Dish from Cafe Ginzburg

Ingredients:
2 cups quinoa
35g salty cheese
1 quartered tomato
1 chopped cucumber
Handful of walnuts
Handful diced sun-dried tomatoes
Handful chopped parsley
Handful chopped cilantro
4 tbs olive oil
Juice of half a lemon
Salt and pepper to taste
Boil the quinoa in a saucepan with two cups water for twenty minutes over a low heat with a lid on (keep this ratio if increasing other ingredients in recipe).
Add to other ingredients and mix well. Season the dish with salt and pepper to your liking.
Gnocchi with tomato cream sauce and nuts / Dish from Cafe Tamara
Ingredients:
1 kg peeled red potatoes
1 cup (150g) flour
2 egg yolks
1 tbs ground parmesan cheese
1/2 tsp salt
1/2 tsp white pepper
Boil potatoes for twenty minutes, then drain water and puree. Store the mashed potatoes in the refrigerator overnight. After removing puree from fridge, add egg yolks, parmesan, flour, salt and pepper. Blend until you have formed dough of uniformed texture and plasticity. Separate the dough into six balls, then roll each into long cylinders resembling a thin hot dog. Cut the cylinders into pieces a centimeter to centimeter and a half in width. Dust lightly with flour and place in a pan. Freeze for a few hours.
Next, bring a pot of water to boil and place the gnocchi gently inside, one at a time. Boil for a few minutes until the gnocchi floats. (You could also deep-fry the gnocchi to a golden brown if you like).
How to make the sauce:
Place sweet cream, walnuts, sun-dried tomatoes, basic tomato sauce, salt into a pan and bring to a boil. Turn heat down to low and stir the sauce until it thickens. Add gnocchi for a minute, and then remove from hea. Serve with parmesan on top.
Penne Pollo / Dish from Coffee Bar
Ingredients:
1/2 kg penne pasta cooked al dente
2 large red peppers cut into strips
2 medium dried onions cut into strips
6 crushed garlic cloves
1/2 bunch of chopped parsley
1/2 cup white wine
400g chicken breast cut into strips
100g butter
1/2 cup chicken broth
Salt, black pepper, red spicy pepper to taste
Heat the oil in a large skillet on very high temperature and fry onions and peppers until they are well browned. Add chicken breast strips and fry lightly until browned; make sure not to overcook or dry them out. Drain oil from the pan, add garlic cloves, butter, and white wine. Add cooked pasta to pan and lower temperature to thicken sauce. Then spice to your liking and add parsley for garnish. Ole!
Portabella and Leek Ali Olio / Dish from Pasta Mia Wilson

Ingredients: (Makes 2 servings)
400g pasta cooked al dente
3 tbs olive oil
4-5 cloves of garlic
Pinch of ground chili powder
1 leek chopped into strips
Pinch of thyme
7-8 portabella mushrooms cut into wedges
1/4 cup white wine
Salt and pepper to taste
Pour a layer of oil into pan, add oil and chili poweder, followed by leek then lightly fry. Add thyme and mushrooms and stir for a few minutes. Add the wine and make simmer to a flambe in order to burn off alcohol. Add pepper and salt and keep stirring until the sauce is ready. Pour the pasta into plates and spoon the sauce on top. For best results, make the sauce as close as possible to the time you make the pasta.
Espresso and chocolate sponge cake / Dish from Metooka
Ingredients (for and English-cake mould; double amounts if using round mould):
3/4 cup sugar
3 eggs
60g dark chocolate
120g butter
1 tbs cocoa powder
1/2 cup all-purpose flower
5g freshly-ground espresso
1/2 tsp baking powder
55g chocolate chips
Whip sugar and eggs with an electric mixer. Melt the butter in a pot and add chocolate as you stir. Add the mixture to the egg-sugar batter. Sift dry ingredients and add to batter. Mix into a homogenous batter. Add chocolate chips and continue mixing manually. Enter cake into oven preheated to 170 centigrade. Bake for twenty minutes, then turn cake in over and continue baking for another 15-25 minutes. The toothpick trick won't work here, as the chocolate chips will smear toothpick with chocolate, so touch the cake with your palm and make sure it's nice and bouncy, but not dry. In any case, make sure you bake 5 minutes less, and not more to keep the cake chocolaty.
Eggplant Cream / Dish from Chadar Ochel
Ingredients (ten small servings):
2 peeled and roasted eggplants (better to roast on open flame than in oven)
1 tbs of labane
3 cloves of garlic
1 cup olive oil
1 tsp silan
1 tsp pine-cone nuts
Salt and pepper according to taste
Grind eggplants in food processor with garlic and labane; slowly add olive oil. Season with salt and black pepper. Plate the cream. Add silan and pine-cone nuts.
Black lentils, parsley, and onion salad / Dish from Darling Rotisserie
Ingredients (serves four):
1kg cooked and washed black lentils
1/2 bundle washed parsley
1/2 bundle chopped coriander
1 medium red onion, chopped
2 cloves of garlic, crushed
1 chilly pepper (optional)
Salt and pepper according to taste
1/4 cup olive oil
3-4 squeezed lemons
Mix ingredients, season if necessary.
Eggplant soup / Dish from Anina
Ingredients (10 portions):
100g butter
4 diced leeks (only the white part)
3 diced carrots
4 sliced cloves of garlic
2 chopped thyme stalks
6 roasted mid-sized eggplants (on a grill or on an open flame)
1 cup white wine
200g feta cheese
12/3 li. vegetable stock
1 cup whipping cream
Place butter in pot and sauté leeks, carrots, and garlic until leeks are translucent. Peel eggplants, add them to pot, and cook for another 2 minutes. Add white wine and crumble feta cheese into mixture. Add stock and cook for about 40 minutes on a low flame. Mix in whipping cream. Add salt and pepper. If necessary, thicken with additional feta.
Lentil Soup / Dish from Cafe Hillel

Ingredients (serves 8-10):
3 tbs olive oil
1 chopped onion
2 chopped carrots
2 chapped cloves of garlic
800g rinsed lentils
2 li. chicken soup
1 chopped celery stalk
1/4 tsp white pepper
1 tsp salt
1 tsp cumin
1 bay leaf
Steam olive oil, onion, garlic, and carrot in pot. Add celery, cover and cook for an additional five minutes. Add lentils, chicken soup, and remaining ingredients. Cook for an hour on a low flame.