Jerusalem may be Israel's capital city but Tel Aviv is the center of the country's contemporary art scene. Here are just a few of the very best of the White City's creative scene.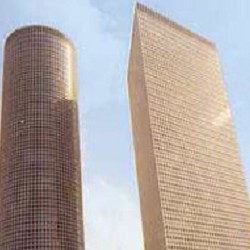 Bauhaus Museum
Tel Aviv, which has been branded the 'White City' in part due to its Bauhaus-inspired architecture, became one of the few modern cities to be declared a world heritage site by UNESCO in 2003.
Construction of the world's largest collection of International Style buildings, known otherwise as Bauhaus began in the 1930s and is concentrated within central Tel Aviv, most notably along the attractive Rothschild Boulevard.
Earlier this year, a new Bauhaus Museum was opened in Tel Aviv to celebrate the history and development of the city's innovative design.
Where: Bauhaus Museum, 21 Bialik Street, Tel Aviv
Azrieli Observatory
For those who want a birds-eye view of this vibrant and cosmopolitan city, it is worth paying a visit to the Azrieli Observatory, located on the 49th floor of the Azrieli Tower.
From there you can take in a spectacular panorama over the whole city and on a clear day, it is even possible to see the coastline stretching from Ashkelon in the south, to Hadera in the north.
Sommer Contemporary Art
The Sommer Contemporary Art gallery features up-and-coming Israeli contemporary artists and promotes their work to the international world, while simultaneously inviting international artists to display their work to the public here in Israel.
Where: Sommer Contemporary Art, 13 Rothschild Boulevard, Tel Aviv
Tel.: 03 516 6400
Opening hours: Monday-Thursday 11:00-19:00; Friday 10:00-14:00; Saturday 11:00-13:00
Dvir Gallery
The Dvir Gallery is also home to the works of Israeli and international artists who have chosen to express the complexities and multifaceted nature of Israeli society.
The gallery was expanded in 2002 to include an auction house for Israeli and international contemporary art.
Where: 11 Nahum Street, Tel Aviv
Tel.: 03 604 3003
Opening hours: Tuesday-Thursday 11:00-18:00; Friday, Saturday 10:00-13:00
Ilana Goor Museum
You will really feel at home at the Ilana Goor Museum based in Jaffa. This comes as no surprise since the museum is actually housed within the private residence of the artist herself, Ilana Goor.
The museum is a magnificent 250 year-old stone structure and offers its visitors the chance to discover an eclectic mix of jewelry, clothing, furniture and statues which all reflect Goor's passion for animals and the land.
Where: Ilana Goor Museum, Jaffa
Tel.: 03 683 7676
Opening hours: Sunday-Friday 10:00-16:00; Saturday and holiday
10:00-18:00; holiday eve 10:00-14:00