The little cupid sitting atop the column in Piccadilly Circus in London is not especially beautiful. A major renovation wouldn't hurt it. Nevertheless, you could make a date for two months from now to meet someone on the steps under it with a good measure of confidence. Or by the column in Trafalgar Square or on the steps of the New York Public Library or at Dam Square in Amsterdam. Maybe they will be renovated or painted, but they won't be moved. Nor will the city fathers build in their place a square that involves a revolving water fountain that occasionally spits fire, as well. Cupid, the column, the steps and the square will be right where they are now a month, a year or four years from now. They will be there because they are the face of the city and you do not replace the face of a city.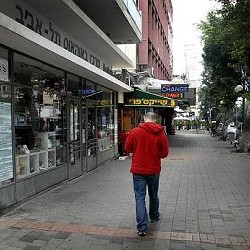 A building, a statue or a square identifies a city. They are what they are not because of the decision of a city council. They are symbols of a city simply because they are there, and they have been there long enough, and this has nothing to do with artistic or historic value. Time has value in a city's life; it testifies to the place being a lasting, stable home. Tel Aviv has never been destroyed by an earthquake, has never been shelled by cannons, has never been burned by fire. Even so, all signs of it having actually been born a century ago have been erased. It is shabby like a neglected old woman, but this is the shabbiness of someone who hasn't showered for two months and is trying to mask her hideous state with heavy makeup.

It is difficult to conceive of any one site that embodies the spirit of Tel Aviv. A site etched in your memory that can be summoned instantaneously, a visual anchor, a mental handhold. Let's consider whether any such places ever existed. Once there were solar water heaters on every roof, then there were TV antennas; now there are green plastic waste bins on the sidewalks. The Gymnasia Herzliya, the first Hebrew-language high school in the first Hebrew city, was demolished long ago.


The public library in New York was dedicated two years after the founding of Tel Aviv. The Habima building was dedicated 35 years later. "This grand, handsome structure will beautify our city and will forever remain a testament to the efforts of our generation in the field of culture and art," said Mayor Meir Dizengoff at the time. The mayor, it seemed, didn't understand much about testaments and their preservation. The library in New York will not be moved and will not be altered, as has been done to Habima at least four times. The powers that be were only barely able to restrain themselves and not alter the Mann Auditorium, which is an ancient 41 years old.

As I write these words, Habima is under renovation. Passersby are surprised by the building's newly revealed stout, round columns. They were already there 50 years ago. Fifty years in Tel Aviv is history. Any attempt to reach an earlier period of time is tantamount to archaeology. Ten years from now, the newspapers will surely report: "Thick columns have been unearthed in archaeological excavations taking place at the end of Rothschild Boulevard. Experts estimate them to be part of the pre-active period, which ended in the sixties of the previous century." One of these days someone will dig and find Tzina Square beneath the concrete, and perhaps also the sand that is evidently hiding under Atarim Square.

A plan is being hatched to turn the Ha'arba'a Street parking lot into a handsome public square. A big rectangular square surrounded by low buildings, buildings whose ugliness is only exceeded by the structures on Yehuda Halevy Street. The idea of the square is excellent, full of inspiration. It could have remained as such if only someone hadn't gone and added that the intention was to create a square "like Piazza Navona in Rome." Piazza Navona? Are you certain? Woe to the fleetingness of the Hebrew spirit, woe to the Israeli zeal for finishing fast, to hopping back in time in a single spectacular bound, to passing over hundreds of years of tradition and getting straight to the crux of the matter, to the same authenticity as an antique furniture factory in Ramle.

This is how Atarim Square was built, this is how Dizengoff Square was refurbished. A faux Piazza Navona would last three or four years. Then someone at City Hall would come back from a planning committee junket to Venice and suddenly get a hankering for a San Marco Square. We want a square like that here, too. Maybe over on Basel Street? An annoying lack of patience seems to characterize anyone who happens to have the authority to demolish and rebuild in Tel Aviv. In truth, it is more of a rash impetuosity than a lack of patience. One could easily imagine the mayor, any mayor, sitting on a bulldozer, his eyes roving all around: So, what can we dig up today? he asks.

His intentions are good; his gaze inspires horror. The gaze of the man on the bulldozer reminds me of moments in my father's life that make me shudder. My father was a level-headed man, a gregarious fellow. This was the case until he finished painting something in the house, whereupon he would stand there, holding a dripping paintbrush in his hand. Then he would turn into another person. A person with a wet paintbrush is a dangerous person. Watch out for such a person. His intoxication with painting was more powerful than any logic. His demented gaze would scan the little apartment, seeking a target for painting, it mattered little which one. An old chair, a wall that had already been painted five times over, a box. Nothing escaped the gaze of the man with the paintbrush. This is the gaze of the mayor on the bulldozer. He has time, he has a budget, he has projects to see through. He wasn't elected to sit in his office and do nothing, he explains.

These lines are being written in a cafe whose window looks out on the colossal construction work now underway on Ibn Gvirol Street. Bulldozers are transforming the face of the street outside, like one changes trousers before laundry day. New strips of asphalt will be laid down next, with palms planted between them. You can see the new palms from the cafe. Now they are still drawn into themselves. But when the centennial celebrations begin, they will spread out their wings in all their glory. I look at the palms and attempt to recall: Where else have I seen boulevards of trees such as these? In Upper Nazareth? Yavne? Hod Hasharon? In all of them. All of them have palms and now Tel Aviv has them, too. To hell with uniqueness, long live homogeny.

After that they took the street and had their go at the pavement, without even touching the ugly buildings. The buildings themselves are ample confirmation of the unbridled individualism of the Israeli in general and the Tel Avivian in particular. There is not a single apartment building on Ibn Gvirol in which the porches are enclosed in the same ugly way. On the other hand, all of them are graced with air conditioners resembling chronic pimples, under, between and above the porches, yet another trademark of Tel Aviv. You cannot touch the buildings due to legal and budgetary constraints, so you concern yourself with trees. Until a few months ago, trees concealed the blight. Meager, plucked trees saturated with soot from the buses, casualties of the Electric Corporation.

The old trees were banished and in their place the city fathers placed benches, the distance between them being too far to hold a conversation and too near to be all by oneself. And there will be palms, too, like in Rishon Letzion. For a second, a terrible thought seeps in: What would happen if the energetic planter of palms got it into his head to eliminate the old ficus trees on Dizengoff because of their annoying secretions. Suddenly we would all be standing before the appalling sight of the residential buildings on the street, the miserable, disintegrating, peeling apartments now concealed by the trees.

The buildings are the responsibility of the people who live in them. Not the municipality. The apartment dwellers are scrupulous about not renovating, not painting, not maintaining. The street, they say, is not our problem. The street is the problem of their city, in which they are dwelling only temporarily. The architect Hillel Schocken once called Tel Aviv "a temporary city." Its buildings and its residents are both temporary. Here they spend the transition years between worry-free youth and responsibility-fraught adulthood, from trendy student life to gray bourgeois existence. Give them four-room apartments in Ra'anana and you've fulfilled their dream. In the meantime, they remain apathetic to the appearance of the buildings, just as the Israeli is apathetic to his personal appearance. Sloppiness, he thinks, is charming, but in residential buildings it is repulsive. Let's forget about the decorations, he says. Decorations are renovation and painting and preservation. They would make the appearance of the street endurable, but me, what do I care in my rented apartment? And my landlord has his own troubles to deal with.

However, it is these chronically sloppy residents of Tel Aviv, these persistent purveyors of shoddiness, these incompetent closers of porches, who give the city its wondrous vivaciousness, this sensation that something is always happening here.

They swarm among the miserable buildings, the digging sites and the palms like so many worker ants that care not if they are carrying their grains in a ruin or in a palace. "At any time and at any hour that you go out into the street of the city of the Kasrilevs, you come across people running to and fro, back and forth, hurrying and anxious, urgent and frenzied, like rats in a plague, this one here and this one there, and they never ever have any free time." Shalom Aleichem was referring to his city Kasrilevke, and did not know that the Kasrilevs had found their way to Tel Aviv.

By 10 A.M. there is no longer a free seat in the cafes in central Tel Aviv. Young local residents fill them, diligently pecking away at their laptops. What are they doing? What, don't they have jobs? A friend in the know reassured me: They're all writing scripts, he said. They are now working on a script, or will at some point write a script, or, at the very least, will in the near future be ruminating on said script. They don't give up. But right beneath their feet the real city is slowly being revealed. As in Fellini's Roma, layers of neglect lining Rothschild Boulevard are being peeled away, the Hayarkon Park is silently extending its rule over vacant lots, the promenade creeps toward Jaffa right under the nose of the big hotels. The city has a life of its own, there is no need to design it, all we have to do is to ensure an unrestrained flow. Jerusalem's Bridge of Chords isn't about to be built here.

The writer is a journalist. He was the editor of Ha'ir in Tel Aviv, and founded and edited the daily newspaper Hadashot and the weekly Kol Ha'ir in Jerusalem.